Founding partners attribute high standards of quality and innovation to BARE International's past, present and future success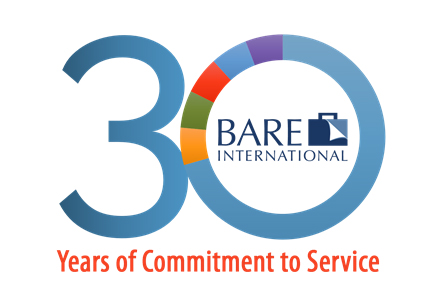 Final Interview part 4 – Parlaying yesterday's achievements into a thriving tomorrow.
In this final segment of a 4-part interview with Mike and Dale Bare (be sure to read parts one, two and three), communication specialist Ellen Pochekailo asks what distinguishes Bare International in the industry, what contributed to their success, and where they see the company going in the future.
What makes BARE different than other customer experience research companies?
Mike – One of the biggest distinctions for us is that we are global. Companies that are international appreciate being able to hire one firm for all their research. At the same time, we are able to share global knowledge with regional and country specific clients.
We are also flexible and forward thinking, always creating new, innovative ways to help our clients succeed. We believe that what we did yesterday, we shouldn't be doing today and definitely won't be doing tomorrow. Change is constant, and we pride ourselves on being able to adapt, grow and lead the way into the future.
Dale – We are also extremely responsive. We're first to respond to proposal requests, and we're able to gear up quickly for new and unique projects.
What are some secrets to your success?
Dale – I think much of our success is due to the way we grew the company. Our expansion evolved organically in a way that made sense. While we took full advantage of new opportunities, we did so with a very deliberate, well-planned approach.
We owe a lot of our success to our employees, too. We make sure they have a voice in the operation of our business by encouraging them to share their suggestions. Since they perform the tasks, they have the best perspective on how to do it better or more efficiently. Being heard gives them a sense of ownership and a vested interest in our success.
This is a family business, so we understand that family is a priority. We not only believe in a work/life balance, we fully support it.
How have you made your partnership work?
Mike – I think it helps that we have different skills, interests and talents. Dale is the backbone of operations, handling the finances—especially challenging as we expanded into foreign markets—staffing, HR, facilities, and all functions essential to keeping the business running smoothly.
Dale – I'm happy behind the scenes, while Mike enjoys traveling the world. He excels at building and maintaining client relationships. His skills complement mine, and we generally share the same mindset on vision and values. It's the perfect match.
Mike – Over 30 years, we've cultivated an incredibly successful partnership, and we both still have a passion for what we do.
As you celebrate your 30th anniversary, what are you most proud of in your long history?
Dale – We are always so busy looking forward, we rarely think about where we've been. But as we look back now, I'd say we're proud—and a little amazed—at what we've accomplished. When we first started, we never imagined we'd become a leader in the industry, successfully doing business on a worldwide scale.
We're also very proud of the team we've put together and the tenure of our employees. We have staff members who've been with us for 5, 10 and 20 years.
Mike – Evaluators who've joined our staff have been invaluable in helping us open offices in several of our foreign markets. We have an extraordinary team, and they've been a huge part of our success.
As we continue to work with people from many diverse cultures around the globe, we're proud to play a small role in opening doors to understanding and acceptance, and in our own way, making a positive difference in the world.
What do you see in the future for Bare International?
Dale – Mike and I continue to be very hands on in guiding the direction of the company, but now we have a gifted team who works right along side us. Mike has always been the face of our company—giving speeches, participating in conferences, expanding and strengthening client relationships. Today he shares the spotlight with our talented executive leaders.
Mike – Bare will continue to be THE global leader in customer experience research. We already have the next generation of company leadership in place. Our son Jason Bare, currently Global Business Development Director, along with our tenured executive team, Guy Caron, Cedric Guy, Guy van Neck and Maggie Dorfman, have a vested and passionate interest in the future of Bare International.
Look for BARE to continue expanding globally—new sales/operations offices opened in 2017 extending our reach to two more countries, and new, innovative service offerings are on the horizon.
For Dale and I, and all those who have shared and supported our vision along the way, it's been an extraordinary journey. We're excited to see where the next 30 years will take us.
This concludes our 4-part interview with Bare International founders, Mike and Dale Bare. To learn more about these industry leaders and how this global organisation can help you measure and enhance your customers' experience, please visit our website at www.bareinternational.in.
https://www.bareinternational.in/wp-content/uploads/sites/3/2018/05/bare-is-30.jpg
298
444
onimod
https://www.bareinternational.in/wp-content/uploads/sites/3/2022/07/BARE-Logo-WP-2022-300x119.png
onimod
2018-06-19 19:21:12
2018-06-19 19:21:12
Founding partners attribute high standards of quality and innovation to BARE International's past, present and future success