Learn how this global leader in customer research grew from a two-person, home-based office to a prominent worldwide enterprise.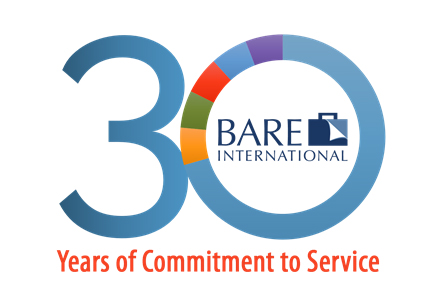 Bare International founders share their incredible journey and secrets to their success in a 4-part series Interview.
In October, Bare International celebrated 30-years of exceptional service and achievements. It is now the largest independent provider of customer experience research data and analytics for companies worldwide. On any given day, BARE International conducts research in more than 150 countries, including right here in India, completing more than 50,000 evaluations each month.
As they commemorated their anniversary, President Mike Bare and CEO Dale Bare sat down with communications specialist Ellen Pochekailo to recount their grassroots to global story. In this four-part interview they share how they got started, how they grew the company into an international business, and what they believe contributed to their success.
What was the inspiration behind the creation of Bare International?
Mike – My first experience with customer experience research was while I was working as a regional manager with Chi Chi's restaurants. KFC was the first fast food chain to implement mystery shopping, but Chi Chi's was the original full service restaurant business to do it. I saw first hand the value from a management and owner perspective, and believed it would be a powerful resource to the industry at large. I had already been in the restaurant business for 15 years, and I could see ways to improve and expand the service.
My career started in Hampton, Virginia at a seafood chain called the Family Fish House. I worked my way up to general manager in Forestville, Maryland, and eventually opened my own restaurant in Northern Virginia that successfully expanded to two more locations. After a few years, I sold all three restaurants, but I guess you could say they are still paying dividends today—because that's where I met Dale. She was one of my best customers and obviously my favorite. We've been partners in business and life ever since.
Dale, what was your background before you went on this adventure?
Dale – I had recently completed the challenging task of launching Epic Residential Network, Inc. (ERNI), a member of the Epic companies. I was tasked with traveling around the country to initiate and run PR events promoting ERNI, and provide marketing support to the team. The goal was to sell a nationwide inventory of residential properties in order to liquidate the limited partnerships that owned them. While our efforts were successful with ERNI, the Epic Corporation filed bankruptcy, and I was laid off.
So I became a PR consultant. One of my clients, Reston Hospital in Northern Virginia, contracted me to build community awareness and anticipation for its grand opening. I laid all the groundwork, creating buzz and excitement, but missed the big day's events due to another exciting event—the birth of our son a couple weeks earlier than expected.
After that, we decided the timing was perfect for me to join Mike in launching our own business. He brought restaurant industry knowledge and contacts. I brought marketing and PR expertise. Everything else we learned along the way.
How did you get started? Who was your first client?
Dale – We started in 1987 with $12 worth of business cards, a Selectric typewriter and a table set up in our basement. We called ourselves Restaurant Services.
Mike – Our first client was Houston's in Rockville. I still remember that presentation. Neither of us was employed, so the pressure was on to get that first contract. I was so nervous I could feel myself perspiring, but it turned out there was no need to worry. The manager was happy to give us a try, and I left there thrilled to have our first—slightly crinkled, sweat-stained, and most importantly, signed—contract. Shortly after that, we signed PJ Skidoos in Fairfax [Virginia], and then Houlihan's in Springfield [Virginia].
How did you evolve Bare into a national organization?
Dale – Houlihan's was a big break for us. The local restaurant in Springfield was impressed with the quality and value of our services. They recommended us to headquarters, which led to a company-wide, countrywide contract. So we went national fairly soon after starting the business.
Mike – As we grew our pool of evaluators in new market areas, we also started expanding our client base.
What were some of the challenges you faced as you expanded?
Dale – When we first started, Mike and I did most of the evaluations with the help of a handpicked group of people we knew. When we got the Houlihan's corporate contract, we needed to recruit a small army of evaluators across the country and do it fairly quickly. Finding people we could rely on to provide quality evaluations was our first challenge.
Mike – To help in the selection process, we developed evaluator criteria that we felt were essential to the role. We also created very specific guidelines for each project so evaluators understood the purpose, responsibilities and expectations of the contract. I traveled to each new market area to personally interview, select and contract evaluators.
Dale – Another challenge was ensuring evaluators were providing objective information. Their job is to report what does or doesn't happen without letting their personal interpretation interfere. This can often be difficult to do, especially if you see something that just doesn't seem right. For example, Mike and I were evaluating a bar one time. We saw the bartender remove cash from the register and put it in a below-counter refrigerator. He did this two separate times. Was he stealing or was he instructed to do that to maintain a certain level of cash in the register? We never knew. We just reported the behavior.
Mike – Managing evaluators also presented a challenge, because they are contractors, not employees. We have always been upfront with clients that we have no control of evaluator behavior. However, we do have control over the end product—high quality reports. If needed, we gladly redo an evaluation with a different auditor. We believe a customer is a terrible thing to waste, and ensuring our clients are satisfied has always been our top priority.
How did you overcome these challenges?
Mike – As we grew, we learned from our experiences and honed our skills. Today we maintain a strong core of reliable, well-qualified evaluators, and continually fine-tune our auditing resources to achieve high quality reporting. We also implemented complex quality assurance measures to review and verify reports so clients get accurate data they can trust.
How did you expand in the hospitality business?
Dale – It was a natural extension into the hotel industry. We started with a restaurant services contract with a Holiday Inn. Then we landed a contract with Marriott at Tyson's Corners [Virginia] to provide complete customer experience research for all their services. As we started to add hotel clients, we changed our name to Restaurant and Hotel Services.
Mike – When visiting my parents in Arizona, I started going to spas and writing up reports. They saw the value our services offered and started to sign contracts, so our business expanded into health clubs and spas.
Dale – As our client base grew, so did our scope of services. Realizing our name was no longer an accurate representation of all we offered or might offer in the future, we decided to change it to Bare Associates. Not too long after that, we took another big leap forward.
This concludes Part 1 of our interview. Watch for Part 2, in which Mike and Dale share their experiences in expanding globally and the impact of 9/11.
https://www.bareinternational.in/wp-content/uploads/sites/3/2018/05/bare-is-30.jpg
298
444
onimod
https://www.bareinternational.in/wp-content/uploads/sites/3/2023/05/BARE-ISO-Badge-2023-1.png
onimod
2018-05-09 02:21:04
2018-05-09 02:21:37
Learn how this global leader in customer research grew from a two-person, home-based office to a prominent worldwide enterprise.