Our team at BARE International is always looking for new ways to improve our services for you! In this quick update, we will introduce new features and share a few tips to make your evaluator experience more enjoyable! So what's new?

1) Auto Cancellation was applied for some projects.
Auto-cancellation was applied to client such as The Body Shop, Shell India, Max Fashions and Reliance Trends. Evaluators need to fill in the exact date of the visit at most 24 hours after the project is assigned to them, otherwise the assignment will be cancelled automatically. By adopting this function, the evaluators can better arrange their visit time and if evaluators don't have time for the visit, it's more convenient for them to cancel.
2) Self Assigning.
We are excited to announce that we have activated the Self-Assign feature for our highest rated evaluators. This feature is available for evaluators who have consistently met and exceeded our expectations and have raised the bar for others. Evaluators that match these criteria will have the freedom to assign evaluations to themselves.
To use this feature, you can:
Go through the available visits on the Job Board and assign an evaluation to yourself >> Select the fieldwork date >> Read and listen to the guidelines at your own convenience >> Submit the report within 24-48 hours of an evaluation.
*Non submission of the report within 48 hours will lead to cancellation of the evaluation.
Don't miss out on getting the audits of your choice! Please note, archived evaluators are deactivated after a while. To avoid deactivation, log in to your account. Stay active to earn money through your hobby and improve customer service worldwide with your opinion.
3) Referral Campaign – Click a Button. Earn Money!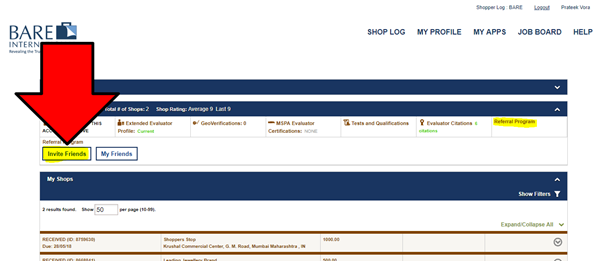 Each time you refer someone, you earn points! Collect points and redeem cash. Invite your friends to join the big BARE family and become mystery evaluators, just like you. Click on the button below to invite your friends.
4) BARE Evaluators – Grading Parameters
As most of you know, a new grading format was put in place in early 2017 to ensure that the grades given to our evaluators was fair and objective. This format consisted of 9 different parameters. Based on an evaluator's rating for the individual parameters in a report, an overall grade would be automatically calculated. This succeeded in reducing any subjectivity or bias in the grading.
We are always looking to develop and improve our processes to maintain the high standard of quality expected of BARE. To this end, we have made adjustments in the grading format to give a higher weightage to parameters that are particularly important. These are:
1) Meeting the scenario/guidelines
2) Completeness and quality of information
3) Consistency across markings and comments
4) Correctness and quality of uploads (images, audios, etc.)
5) Use of proper grammar, language and punctuation
– The remaining parameters will continue to have the same weightage. – The updated grading has been put into effect from 1st June 2018.
---
We appreciate your hard work and all you do for BARE. Thank you for embracing these new features!
Sincerely,
BARE International India Team
https://www.bareinternational.in/wp-content/uploads/sites/3/2018/07/Screen-Shot-07-25-18-at-12.54-PM.png
480
804
onimod
https://www.bareinternational.in/wp-content/uploads/sites/3/2023/05/BARE-ISO-Badge-2023-1.png
onimod
2018-07-25 17:57:01
2019-11-01 16:44:56
Q2 Evaluator Newsletter